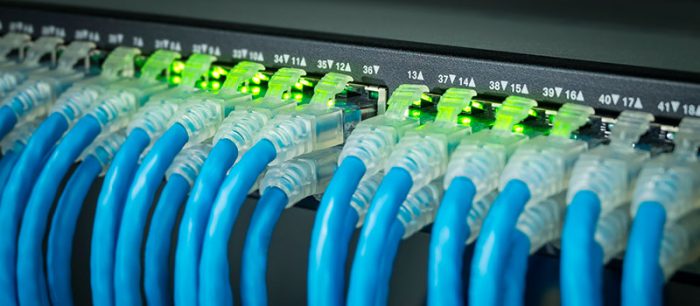 Voice Cabling
A fully converged structured cabling solution will deliver anything IP related to its destination device over one cabling system.
---
With ever-faster data transmission rates, the importance of voice cabling and its interface with the rest of the cabling system can be overlooked. Ask any business manager which is more important, voice or data, and they invariably say voice as that is how an organisation communicates with the outside world.
AKD has been installing cabling infrastructures since 1988. Before that, the company's founders worked in voice cabling. Our voice cabling installation portfolio includes:
CW1308 multi-pair telephone cables
Test Jack Frames (TJFs)
Distribution frames and cabinets
Box connections
Connection strips
Accessories
Voice cabling is often the interface between the Private Automated Branch Exchange (PABX) and the structured cabling system. For ease of management, AKD can present your PABX extensions on 25 or 50 port RJ45 patch panels so that voice services can be easily patched through to the appropriate outlet. Where workers are spread over several floors or multiple buildings of a campus, AKD can provide multi-pair backbone cables to link the various work areas.
Where voice services operate separately from the data cabling, AKD can install and maintain traditional block wiring solutions, extending the cabling system's life and maximising Return on Investment (ROI).
For companies looking at voice and data convergence, AKD offers Voice Over Internet Protocol (VOIP) solutions. We supply all of the equipment, including handsets powered over the network (Power Over Ethernet), and configure your solution to ensure optimum Quality of Service (QOS).
AKD places high priority on delivering the best and most cost-effective solution to meet your infrastructure needs.
So, whatever your voice cabling requirements, AKD offers the highest levels of performance, quality and support, all at a cost effective price.
To find out more about communications cabling infrastructures contact AKD.
Experts in structured voice and data cabling
AKD has more than 20 years' experience in all industry sectors in the UK and Europe. Whether it's defence, security, healthcare, commerce, industrial plant and control, or utility services, we've worked there.
Our continuous investment in training, resource and facilities ensures a consistent, high level of customer care a support.
At AKD, we offer clients peace of mind about all aspects of network infrastructure. We handle design, installation, support, maintenance, testing and breakdown – with a full range of complementary services:
Fibre optic termination
OTDR testing
Live network diagnostics and fault finding
Fibre optic testing
Fibre optic installation
Fibre optic suppliers
Blown fibre installation
Data cabling
AKD also provides specialist services in:
Access and sSecurity
Fibre optic perimeter fencing systems
Wireless services
Data and voice networks
Data centre design and installation
Cat5e, Cat6 & 10 Gig
CAT5e provides 100Mhz bandwidth – whereas the next generation CAT6 provides 200Mhz. These levels of useable bandwidth more than meet today's data transmission protocol for high-performance computer networking.
A disadvantage of copper cabling is its limit of 90 meters of cable from the main patch panel to the final outlet. Fibre optic cabling overcomes this drawback.
All AKD engineers are highly experienced in cabling – working in educational premises, hospitals and industrial sites. Expect exceptional work standards in all areas, from cable containment to cable management.
Each copper system installed is tested and certified, with the report – showing all wire maps and results – presented to you. A 25-year fully warranted installation is also available.
Augmented Category 6
Augmented Category 6A or 10Gigabit Ethernet cabling?
Now that the Augmented Category 6 (Cat6A) cabling standard has been fully ratified, you can make well-informed decisions when choosing a cabling system manufacture.
It's a copper cabling system for 10Gigabit Ethernet (10GbE) links up to 100 metres. It can be shielded or unshielded.
The role of Cat6A is to support 10GbE. That is its only advantage over Cat5e and Cat6 – but a tenfold improvement in bandwidth is impressive.
The simplest thing to consider is price as a Cat6A installation typically costs about 33% more than Cat5e. However, the main practical issue is the size of the pathways and containment you will require. That includes risers, voids, cable trays, cable baskets, floor ducting and perimeter trunking.
Straight runs of Cat6A need roughly twice the capacity of Cat5e but the minimum bend radius of installed Cat6A is upwards of 30mm.
If it's for a new building or your premises are having a major refit, it is simple to specify larger pathways and containment for cabling systems. Otherwise, the cost and disruption may make Cat6A unjustifiable.
You need to ask yourself whether, for the life of the cabling, you will ever need it to support 10GbE. If it's a backbone link, in data centre or likely to be in use for more than ten years, the answer is more likely to be yes.
Make sure the cabling system you buy complies with the full standard not the draft standard, particularly the permanent links (the installed cable runs).
Most Cat6A cabling systems are shielded and it is imperative the building's earth system is of a very high standard and the cabling system is earth bonded by competent electricians – AKD. Good earth bonding removes high frequency noise from the system via the shielding and helps prevent alien crosstalk between adjacent cables. You may need to invest in some improvements to your earth system.
Where does the arrival of Cat6A leave Cat6? Essentially it makes it redundant. Although Cat6 has two-and-a-half times the frequency range of Cat 5e, no network standards have been adopted that run on Cat 6 which won't run on Cat 5e. Your choice is between Cat6A and Cat5e.