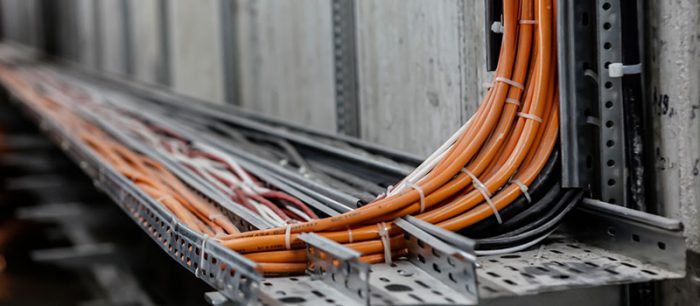 Blown Fibre
Future-proofing your network comes at a cost. Install a blown fibre solution for the best of both worlds.
---
Blown fibre is a simple solution to ever-increasing network demands. It allows optical networks to adapt to your business requirements and can by rapidly deployed to any point of your network, internal or external.
Compressed air is used to blow fibre elements into pre-installed micro tubes from end to end, minimising fibre splicing.
Benefits
Flexibility of Network Design
Deployed without disturbing existing networks.
Accidental damage to the fibre network is easily fixed at little cost.
Add nodes to a network at a massive saving over conventional fibres.
Deploy different fibre types within the same route, ie OM1 & SM.
Fast Installation Speed = Lower Installation Costs
Tube routes can be interrupted at any point for network upgrades.
Higher fibre counts. Up to 244 fibres can be deployed – and quicker than conventional fibres.
Speed and ease of deployment cuts network build costs by 50%.
Installation Environments
Industry
In large industry environments such as gas, power and water plants, a blown fibre network is widely used for long-haul routes.
Can be deployed without disrupting the site infrastructure.
Campus & Multi-campus
Using blown fibre in network backbones allows IT managers to have huge flexibility within campus and multi-campus sites.
Fibre to the Home (FTTH)
Blown fibre networks can be installed directly to the customer's intake position or into the basement of apartment block and split off to individual internal tubes, so fibre can be deployed on demand.
Blown Fibre Specifications
Blown Fibre Units (Fibres)
Fibre Types
Single mode.
Multimode 62.5 / 125 – OM1.
Multimode 50 / 125 – OM2.
Multimode 50 / 125 – OM3.
Multimode 50 / 125 – OM3e.
Duct Types
Direct Install Duct
Used in existing site ducts.
Aluminium tape layer for water blocking.
Low-friction internal coating for maximum blowing distances.
Available in 1, 2, 7, 12, 19, 24-way tubes.
Direct Bury Duct
Buried in prepared ground.
Double sheath for crush protection. Aluminium tape blocks water.
Higher bend resistance.
Available in 1, 2, 7, 12, 19, 24-way tubes.
Direct Bury Non-Metallic Duct
Used in the last mile and campus environments.
Totally non-metallic.
Water swellable tape layer acts as moisture barrier.
Available in 1, 2, 7, 12, 19, 24-way tubes.
Internal Duct (LSOH)
Used internally and has flame-retardant properties.
Low smoke.
No halogens.
Available in 1, 2, 7, 12, 19, 24-way tubes.
Fibre Components
High-density patch panels with ST, SC, LC, FC, E2000 connector types.
Fibre distribution hubs and cabinets.
Splicing boxes, hubs and joints.
Wall and floor boxes, internal / external.
Building entry kits.
Branch joints.
Tube connectors.
Tube end caps.
Water-blocking connectors.
Gas seal connectors.
Bulkhead connectors.